MAUI RECYCLING GROUP WORKING PAPER? WHITE PAPER? DISCUSSION PAPER?
DRAFT #1, 5/12/12 – FOR REVIEW ONLY DO NOT RELEASE
COUNTY OF MAUI/ANAERGIA PROPOSED PROJECT
We thank the administration of County of Maui Mayor Alan Arakawa for their work on developing a comprehensive waste management proposal for our community.  In our over two decades of work on this "universe" of issues we have learned that this is a complicated topic which changes and evolves over time.
That said we must declare that we have many reservations about the nature of the current proposal.  Initially our reservations are a result of what appears to be a repudiation, by the Arakawa administration, of Maui County's Integrated Solid Waste Management Plan (ISWMP).  This Plan, mandated under County and State legislation, has continued to evolve since its original publication in WHAT YEAR?  Each county in Hawaii is required to review and update its plan regularly.  The current version of Maui County's plan was finalized and adopted in late 2008.
Work on this Plan was accomplished by a diverse group.  Some were members of the community appointed by then Mayor Charmaine Tavares.  Others were paid consultants, still others County employees.  An Advisory Panel of 16 community members represented the visitor industry, Maui  hotels and resorts, non-profit environmental organizations including MRG, Maui's recycling industry, agricultural operators, economic development organizations, representatives from the Islands of Moloka'ai and Lana'I and others.  They were assisted by engineering/consulting firm  Gershman, Brickner and Bratton of Seattle, WA.
Together this group conducted research;  identified then current and projected conditions;  investigated plans and programs in place in several mainland locales.  Their final product featured several scenarios which included a range of options and recommendations.
After extensive review, including cost analyses, public review and input, and  proposed legislation, the members of the Committee decided on what they had identified as "Scenario III."   In brief, this choice called for the County to achieve a 60% landfill diversion rate prior to consideration of a "Waste To Energy" component.  At the time the County's diversion rate was 30%.  The most current estimate is just over 40%.  Thus, the County is making significant progress but has yet to achieve the primary goal of the current plan.
Rather than focus on the policies and programs which have the best chance to achieve the mandated 60% diversion rate the current administration has chosen to abandon that approach to embark on a single program/technology which, the administration claims, will result in an 85% diversion rate and  will be environmentally positive and economically productive for the County.
As of this writing we understand that the administration intends to enter into an agreement with an international technology company known as Anaergia.  Under the terms of the proposed agreement Anaergia will be responsible for construction of an aerobic digestion facility with an MSW sorting capability which will handle virtually all of Maui's waste stream.  A review of their website indicates that their experience and expertise is heavily weighted to anaerobic digestion.  They do not appear to have experience in processing a mixed municipal waste stream, such as Maui's.
There is another major reason Maui County leadership is enthusiastic about this proposal.   Under the terms currently under consideration Anaergia retain ownership of all assets and products.  If the project is successful Anaergia will generate an operating profit as well as a substantial return on its investment.  It is easy to understand why County officials are enthusiastic about this.  No County funds will be required.  No new taxes, no new programs, no new risk.  And they have ample reason to feel this way.  However, there is an alternate scenario which is not quite as exciting.  Conditions could and probably will change – markets, regulations, etc. all of which are not subject to our control.  Aenergia might find itself in a situation where they are losing money.  As a for-profit company we can assume that they will have protected themselves against a downturn.  They could decide to liquidate their project via bankruptcy.  They could decide to seek a buyer or in some way transfer the project to the County.  They could shut the facility and programs down, mail the key to the Mayor and move on.  Under these and other scenarios, and given the speed of change in modern life, it is not unreasonable to be concerned about a bad result.
According to the Integrated Solid Waste Management Plan consultants anaerobic digestion does not have a significant track record and therefore cannot to be recommended as an economically and technically viable option for handling mixed MSW.
There are many other significant questions which, in our opinion, should be examined and answered before the County decides whether to
commit to this project.  The Anaergia proposal indicates that Maui's total waste stream will be collected and shipped to their facility.  Recyclables – metals, plastics, paper, cardboard glass and others —  will be removed and shipped to off island markets.  Much of the organic component – sewage sludge, fats, oils and greases, green waste – will be feed stock for the energy intensive anaerobic digestion process that will produce a material known as Refuse Derived Fuel (RDF).  What will be the market for Anaergia's  RDF?  So far, it seems there are no takers on Maui.  Even if there were, who would be responsible for the mulit-million dollar upgrades to MECO or HC&S equipment, including pollution controls?  If this product will be shipped to H-Power on Oahu what will be the impact of shipping costs?  How will the planned and unplanned downtime of the H-Power facility affect Maui?  Even worse, if it is shipped to the US mainland, or Asia, what will that do to the profitability of the operation?
In most cases projects of this nature are operated under "put or pay" contracts.  These contracts specify a certain amount of feed stock be supplied to the facility.  If the amount is not as specified in the contract then the County would be required to pay for the materials not supplied.  This would be true if Anaergia constructs a MRF or a Dirty MRF to remove and process recyclables which are not appropriate for the waste conversion/energy technology.
MRG, as a long time recycling advocacy is also extremely concerned about the impact of this project on Maui's existing recyclers.  Will Anaergia require all of Maui's green waste and sewage sludge?  If so, what will happen to the Eko Compost?  Will we lose the jobs and the infusion of Eko's sales and payroll money into Maui's economy?  The same questions apply to Maui's other compost producers, to Pacific Biodiesel, to Aloha Recycling, to Maui Recycling Service and others.
We also need to consider the impact on Maui's population.  Over the years many elements of Maui's environmental community, including MRG, have been quite successful in creating enthusiasm for Maui's many recycling programs.  We are now in our third generation of creating a citizenry which prefers a 3R approach and has demonstrated over time its willingness to support this approach.  We have all learned to look at recyclable materials as a resource which supports many locally-based companies.  Should we now prepare to convince those same people that they should now be throwing more refuse "away" in order to support the Anaergia facility?
Finally, we should also consider the impact on what many of us believe is the most important global problem of our time.  For over half a century scientists have been measuring atmospheric CO2 from a research facility at Mauna Loa on the big island.  The man who started this research was named Charles D. Keating.  He has since died and his son is now a climate scientist involved with this work.  Last week (May 11, 2013) Keating and other scientists announced that the amount of carbon in the atmosphere has now reached 400 parts per million, the highest ever recorded.  The data results from what are known as "instrumental observations" which means the methodology of the science is transparent and easily verified.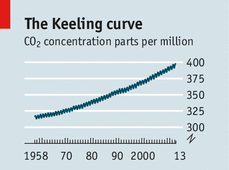 For decades these data have been presented in a graph, known as the "Keeling Curve." Almost anybody can look at this chart and figure out what is going on.hen push comes to shove this is among the basic problems our work is about.  Politics and personalities aside, we need to remember this and to make sure all our activities, including how we handle our "waste" keep this in mind.  The only way we are going to turn this graph down is through concerted, widespread and effective action.
­­­­­­­­­­­­­­­­­­­­­­­­­­­­­­­­­­­RESOURCES:
John Harder – Zero Waste Kauai Position Papers
Link to Maui ISWMP published on County Website
Plus – more to come